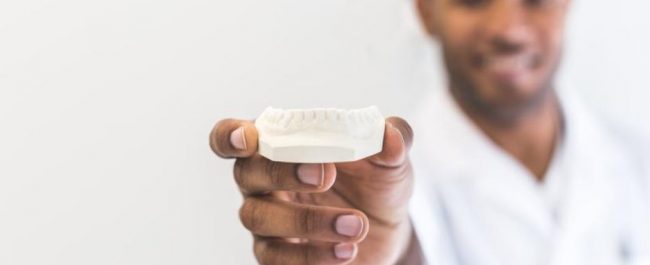 Advantages of Getting Complete vs Partial Dentures
If you're faced with the choice of whether to invest in dentures or not, you might be feeling apprehensive. It can be a big and potentially scary thing to hear that you will lose some (or many) of your teeth, and now need to have a conversation about getting dentures. Regardless of how old you are feeling nervous about this change is completely normal.
Once your dentist goes over the options with you and helps you make the best decision for your situation, you might start to feel better about the shift and be able to recognize some of the many advantages to getting dentures.
Partial or Complete Dentures
Partial Dentures are made to replace just one or more teeth that are missing. These can be permanent or removable.
Complete dentures are removable dentures that replace all missing teeth on the top or bottom of your mouth. If you have any teeth remaining, your dentist may suggest that your dentures fit over them to ensure a good fit.
Benefits of Getting Dentures
If you have to get some teeth removed, whether just a couple or several, it's common to feel intimidated by the choice. But there are many benefits to getting dentures, including some you may never have thought of!
At Reflections Dental Oakville, we believe that getting full dentures versus partials is a decision made based on the advice of your dentist. We offer both full and partial options, based on what's right for the patient.
Improved self confidence
Especially if your bad/missing tooth is one of the ones in the front of your mouth, getting dentures to replace it can help boost your confidence in your appearance. And if you are faced with the possibility of loosing most of your teeth on the top or bottom, getting a set of complete dentures can ensure that you won't have to be worried about flashing a toothless grin.
You can eat whatever you want
Sore teeth or gums or missing teeth can cause you to have to watch what you eat, and maybe even avoid certain foods in some situations. Foods that are tough or that require a lot of chewing can be difficult to eat when your teeth are not functioning properly. Although it is a learning curve once you receive full dentures, you can largely go back to enjoying most foods you crave. (As is the case even for a healthy mouth, it's especially prudent to avoid sticky and hard/crunchy foods.)
Easy to keep clean
Just as you brush your permanent teeth regularly to keep them clean, brushing your dentures every day will help them to stay clean. Cleaning your dentures daily will ensure you don't find yourself suffering from an infection or sore gums, and keep them odor free and sparkling white.
Better speech
If a mouth is missing teeth it's possible that some words are not pronounced correctly, whether you realize it or not! Getting fitted for a set of dentures has the potential to improve the clarity of speech in many cases. It can be expected, though, that when first getting full dentures there will be a period of adoption. Speech initially can feel different and even challenging, yet with time most patients adapt. Always speak to your dentist for further tips on how it may improve or affect your speech!
They last a long time
If you care for your dentures well, they can last a very long time. Brushing them twice a day and flossing in between meals will help your complete dentures to last 5 to 10 years.
Improve facial health
Facial muscles are kept strong and tight thanks in part to the teeth in your mouth. When several teeth are missing, the muscles in your face loosen. Getting a set of complete dentures can help your facial muscles maintain or regain their strength, and even help decrease the rate of oral bone loss.
REMEMBER! Getting dentures is a restorative dental option. What's better? Practicing preventative oral health and dental care, of course.
Do I really have to get dentures?
When it comes down to it, this is a choice you have to make with your dentist. But it doesn't have to be a scary conversation! While you may face some learning curves when it comes to caring for your new teeth and they might take some getting used to, there are many benefits to making this adjustment to your mouth health routine.
Deciding on complete dentures in consultation with your dentist will leave you well informed and in a position to make the best personal decision for you. Visit your family dentist to talk about whether you should consider partial dentures or a complete set.