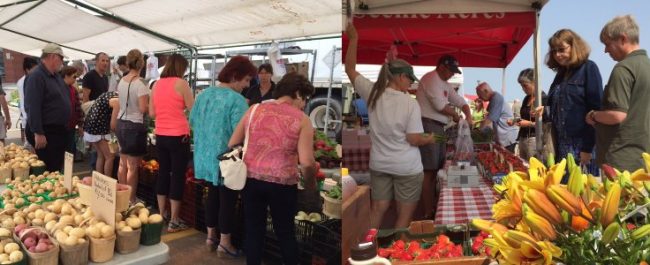 Taste Mouth-Watering Fall Flavours Around Oakville
As the temperature drops and your fall slippers start calling you might be finding yourself excited about sweater weather, fireplace time and the return of pumpkin spice flavoured everything. After the hot, hot summer we've had here, we don't blame you! Sometimes curling up with a good book, a warm blanket and a hot cocoa is just what the doctor ordered. But the refreshing changes that come when the leaves start changing colours are oh-so-fleeting, so you have to get out and enjoy them while you can! And since you've probably just had your fall teeth cleaning, your pearly whites are no doubt begging to sample some tasty seasonal deliciousness!
Here's some amazing autumn flavours you need to check out around Oakville!
Andrews Scenic Acres Farm & Wine, Milton
In the fall this working farm turns its focus from seasonal fruit to pumpkins, and not just the ones for carving! The on-site winery offers up a pumpkin wine and the ice cream shop stocks pumpkin ice cream! And you thought this pumpkin spice trend would end with coffee beverages!
Sweetbites Bake Shoppe, Oakville
This sweet shop in Oakville specializes in baked treats like cupcakes and custom cakes. Everything is made fresh in house from quality ingredients, and the whole shop is even peanut free! Stop by here this fall to enjoy a pumpkin spice caramel latte cupcake, and take that whole pumpkin spice craze to a new level! I hope you have that sweet tooth polished… You're going to need it here!
A Fresh Apple at St George Apple Fest, St. George
One of the top 100 festivals in Ontario, the St George Apple Fest is the premier place to enjoy fresh bounty from the harvest, take part in several community events, and view entertainment for all ages. Every fall the town comes alive during the mid-September festival as they embrace all things apple and open their streets to the entire community. You'll find tons of vendors and local artisans, fresh fruits and produce, and all kinds of apple products. Head down to test out some fresh pies, dumplings and cider!
Applefest Fall Fair at Historic Ireland House Museum, Burlington
Embrace fall at a traditional fall fair in Burlington where they have fun for the whole family. From a vendor market to historic house tours, pony rides and a hay maze, there is something for everyone. Enjoy the outdoor BBQ one last time before winter comes!
Visit a local farmer's market
Farmer's markets are the best place to experience seasonal flavours! Bring a friend and spend the morning visiting one of these markets to help bring the sights, smells and tastes of fall into your home.
Shop for delicious seasonal goodies including fruits and veggies, fresh flowers, local wines and syrups and much more.
Oakville Citivan Farmer's Market
Hosted every Saturday until the end of November, this market is the longest running farmer's market in Oakville!
Experience a Taste of Oakville this Fall!
As the leaves start changing, we're not the only ones looking for a change in our food scene. Ontario schools have also just announced a new fall menu for the kids returning back to school this year! This is great news for kids in local schools. Healthy eating habits are essential for good oral health as they get older.
Fall is a great time to get out and explore all the delicious local flavours around Oakville, so hopefully this list has given you some ideas.
Getting out to taste the seasonal flavours is the perfect reason to keep your teeth in top shape, so make sure you've scheduled your fall dental appointment! Nothing like a cavity to get in the way of seasonal food tasting!