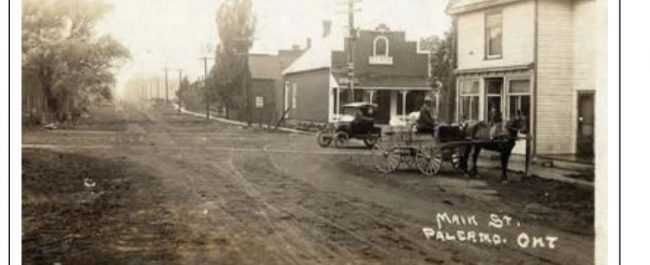 Oakville's Palermo Village: A Great Neighbourhood with Amazing History
Palermo Village in Oakville has a vibrant history and offers an amazing place to explore and call home for families of all kinds. Located in the heart of Oakville and situated right on a main thoroughfare in southern Ontario, Palermo Village is considered a historic and cultural landmark with many ties to the past. If you're looking for a great area to move your family to, Palermo is an amazing choice for many reasons.
Where is Palermo Village?
Do you live in Oakville's "village" in the Bronte and Dundas Street area? At Reflections-Dental, we're proud to service the Palermo Village neighbourhood and all of Oakville and Burlington. Call us for all your dental care needs today!
The area of Palermo Village is located at the intersection of Dundas Street West and Old Bronte Road in Oakville. Once the biggest roads between Toronto and western Ontario, Dundas Street is still a bustling center today. Though Palermo Village is located at the edge of the boundary of Oakville, it still benefits from being right on the most popular route through the city. Just a quick turn off hwy 407 will bring you right into Palermo Village, so you'll have easy access to all parts of the GTA.
History of Palermo Village
Once a thriving village in the early to mid 19th century thanks largely to its location on Dundas Street, Palermo Village continues to be a busy hub today. It has been settled since the early 1800s, at least 20 years before the founding of Bronte and Oakville, and is now the last remaining settlement within Oakville's current boundaries.
At its peak in the early 1920's Palermo Village had around 30 houses, a school, a community hall, a sawmill, two churches, two general stores, a park and a factory. This village actually led the area for the installation of sidewalks, even before its neighbors in Oakville. If you look closely you can still find remnants of these sidewalks today!
Until the 1940s Palermo Village maintained its status as an attractive and desirable area to live however at that point it started to decline in popularity. This largely occurred because of the province's push to speed up traffic on both Bronte Road and Dundas Street, leading to many of the homes and businesses having to relocate or close. The village went through a number of other pressures and struggles in the years since however it has still managed to hold only the historic and cultural significance to maintain it's standing as a destination of choice.
Perfect area for families
Palermo Village boasts a prime location in southern Ontario. It is within the Halton Region and inside of the Oakville boundaries with many excellent neighbourhoods nearby. Bronte Woods, The Orchard, West Oak Trails, Alton Village and Millcroft are all very close to the boundaries of Palermo Village. This network of neighbourhoods means that there is a corresponding network of businesses that can help make your lives together easier and more complete.
Within Palermo Village you'll find single family homes, duplexes, condos, apartment buildings and retirement homes, so no matter what kind of home you're looking for, you'll no doubt find it here.
Top amenities available
Surrounded by sprawling park land with a provincial park and several creeks running through it, Palermo Village is a destination in itself. The community is home to multiple schools, excellent shopping, great daycare and fun outdoor activity and excellent dental and healthcare.
With countless options for shopping, healthcare, green spaces, education and fun, Palermo Village and the area surrounding it is an excellent area for families to settle.
Palermo Village blends history, culture and modernity
The town of Palermo Village is the perfect mix for the modern family. With historic significance, cultural importance and modern amenities, it's the perfect destination for families of all kinds.
If you're not yet in the market for a new place to call home, head out to Palermo Village for a daytrip to take in the provincial park, go for a walk along the river or see if you can track down some old sidewalks!