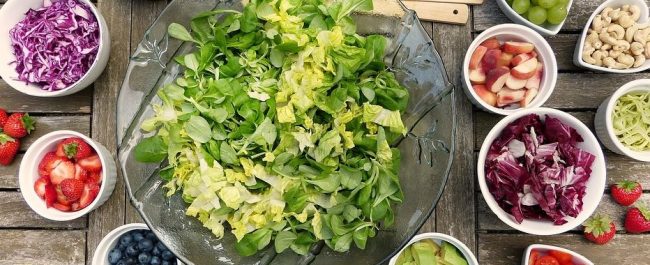 Taste Spring Flavours in and Around Oakville
Welcome the warm weather and fun, fresh flavours and the wonderful tastes of spring! In Oakville, we're blessed with a wonderful community with amazing festivals and restaurants! Oakville is perfectly located in Halton – minutes from local farms – which means it is a prime hub for some awesome day-trip foodie destinations. Here are our top suggestions for delicious flavours to dive into this spring.
Some amazing spring flavours & festivals around Oakville
At Reflections Dental Oakville, our families trust us to maintain their optimum oral health. There's too much goodness to taste and so much to smile about in and around Oakville and Halton Region!
Learn some new skills in the kitchen
Cooking classes at Paradiso Restaurant will have you feeling like a European cooking pro this spring. With a schedule that offers classes throughout spring and summer, you will have no trouble fitting something into your schedule. These hands-on cooking classes feature local flavours and are led by one of the restaurants in-house chefs.
Have a pizza at Stoney's
This local restaurant has been a staple in Oakville for the last 15 years. They serve a variety of pizzas and sandwiches, with all ingredients made fresh and purchased locally. They were even on an episode of 'You Gotta Eat Here' on the Food Network! Stoney's Bread Company is the perfect place to embrace the flavours of spring since the 2 friends and co-owners that run the place pride themselves on their love of using market-fresh products in every dish.
 Join a Grilled Cheese Challenge
Taste the best grilled cheese sandwiches in the Toronto area and vote for your favourite one! On June 8 you can feed your inner foodie by heading to Lakeshore Village in Toronto and check out the line up. Enjoy some live music & entertainment, some delicious food, tasty local drinks and some vendors set up for your shopping pleasure.
A family-friendly grilled cheese challenge is an awesome way to ring in spring with your friends and family!
Visit the Wheelbarrow Orchards Spring Festival
Head to the spring festival at Wheelbarrow Orchard on May 26 for a fun time with your family. Enjoy the smells of spring right in the middle of a grove of flowering apple trees. Local vendors are present and you will find entertainment for everyone.
Sip some fresh cider at the Wild Things Festival
Ready to experience the flavours of spring? Check out the Wild Things Festival at Junction Craft Brewing on June 2! Experience some truly local, spring flavours when you sip on wild beers, local wines and Ontario ciders.
Enjoy the Taste of Little Italy Festival
This weekend-long festival at the end of spring will have your mouth watering the minute you step foot on the street. Enjoy all the perfect flavours of Italy from authentic pastas, wood-fired pizzas, refreshing gelatos and crunchy & sweet cannoli. You can buy from the many, many restaurants and street vendors or just fill up on the free samples along the way.
Make it a family affair with live music, multicultural vendors, carnival rides and a skatepark.
Enjoy some specialty food fests
Whether your diet calls for a gluten-free lifestyle or vegetarian/vegan food choices, or you just plain like them, kick off spring with a stop at one of Toronto's top foodie festivals. From the Afro Vegan Fest on June 16 featuring Caribbean and African cuisines, Buddha's Light Vegetarian Festival on June 2 featuring veg foods from a wide range of cultures to the Gluten Free Garage Festival on May 26 offering up an exclusively gluten-free foodie experience your taste buds will be singing, and begging for more!
Take in a food truck or adult bevvy fest
If there's one thing the GTA does well, it's food & drink festivals. Check out the Craft Beer & Food Truck festival in King City on June 8 for a taste of fresh, local and delicious food & drinks. Or head over to the annual Peller Estates Food Truck & Wine fest weekend on May 17-19 for an adult-only food truck fest.
The key to enjoy fresh foods is good mouth health!
All the amazing spring flavours in the world won't be enjoyable without good mouth health! Stay on top of your regular check ups, cleanings and exams so that you can enjoy these spring flavours as nature intended – absolutely delicious! With so many foodie choices ahead of you, the only question you should be asking yourself is… Where do I start?!